---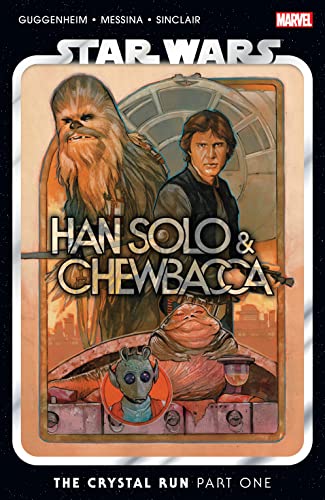 Star Wars - Han Solo & Chewbacca Vol 1 - The Crystal Run Part 1 Tpb (2022)
Marvel Comics
---
(W) Marc Guggenheim, Various (A) David Messina, Various (CA) Phil Noto.
The galaxy's best buddies star in a hair-raising adventure from the days before they joined the Rebellion!
Loveable rogue Han Solo and his Wookiee partner-in-smuggling, Chewbacca, set off on a heist for none other than Jabba the Hutt - and this time, the Rodian bounty hunter named Greedo is working alongside them! It's supposed to be a nice, straightforward job.
What could possibly go wrong?
Well, for starters, how about a reunion with the very last person Han expected to see?
And when the target safe is cracked, you won't believe what's inside! Plus: Celebrate the galaxy's favorite holiday with a collection of festive tales from all across the saga of Star Wars. Happy Life Day!
Collecting STAR WARS: HAN SOLO & CHEWBACCA #1-5 and STAR WARS: LIFE DAY.
---
More from this collection