---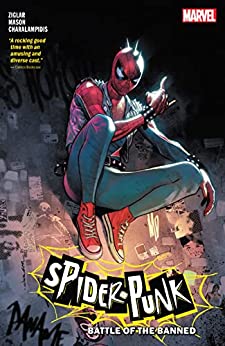 Spider-Punk - Battle Of The Banned Tpb (2023)
Marvel Comics
---
Anarchy in the Spider-Verse!
Hobie Brown is the head-spiked Spider-Punk - all set to protect Earth-138 with his ax in hand and his chaotic band of punkrockin' heroes backing him!
But even though the Norman Osborn of Hobie's dimension is dead, will the chaos he created be too much for Spider-Punk and the gang to handle?
What secrets lie under the community center Spidey and his crew call home base?
And why is Taskmaster crashing the party to stomp out Spider-Punk?
It all ties back to one thing, and Hobie had better figure it out fast. It's time to take to the road in the Spider-Van, but Hobie and crew will soon end up joining Daredevil in the giant shadow of the Kingpin!
Prepare for an arachnid adventure like you've never seen before! Kick it!
Collecting SPIDER-PUNK #1-5. RATED T+
---
More from this collection