---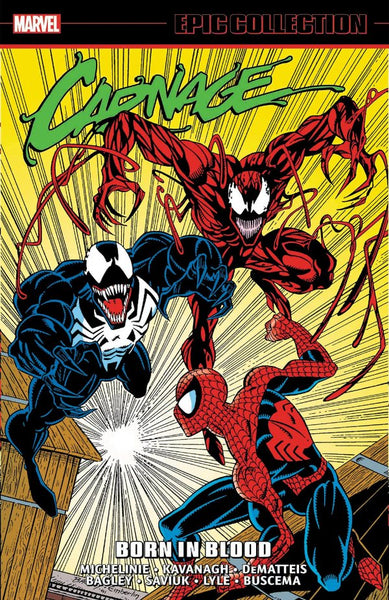 Carnage - Epic Collection - Born in Blood Tpb
Marvel Comics
---
(W) Tom DeFalco, More (A) Pat Olliffe, More (CA) Pat Olliffe.
Volume #1 in the Carnage Epic Collections Carnage slashes his way into his own Epic Collection!
When the offspring of Eddie Brock's alien symbiote bonds with Brock's psychopathic former cellmate, Cletus Kasady, the result is the most deranged and bloodthirsty foe Spider-Man has ever faced!
Against the remorseless killer that is Carnage, Spidey must do the unthinkable and forge an alliance with Venom! But Carnage soon gathers some fiendish friends of his own: Carrion, Demogoblin, Shriek and the evil six-armed Spider-Man Doppelganger!
And now a small army of heroes - including Spidey, Captain America, Iron Fist, Black Cat, Cloak and Dagger, Morbius and Venom - must hit the streets in a desperate bid to stop Maximum Carnage!
Collecting AMAZING SPIDER-MAN (1963) #361-363 and #378-380, WEB OF SPIDER-MAN (1985) #101-103, SPIDER-MAN (1990) #35-37, SPECTACULAR SPIDER-MAN (1976) #201-203 and material from SPIDER-MAN UNLIMITED (1993) #1-2 and AMAZING SPIDER-MAN ANNUAL (1964) #28.
Rated T
---
More from this collection