---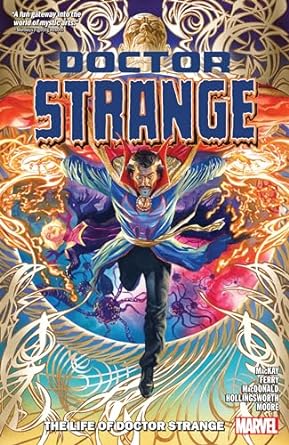 Doctor Strange By Jed Mackay Vol 1 - Life of Doctor Strange Tpb (2023)
Marvel Comics
---
(W) Jed MacKay, Various (A) Pasqual Ferry, Various (CA) Alex Ross.
Stephen Strange is alive! Reunited with Clea and Wong, it's back to business for the Sorcerer Supreme when an unending sleeping sickness strikes the children of Bleecker Street!
There can only be one culprit behind this attack - and now it's up to Doctor Strange and Clea to travel into the Dream Dimension to confront their old foe, Nightmare. But all is not what it seems, and what they discover will shock them!
Then, when a cult summons the Dread Dormammu to New York, Stephen must risk everything in order to defeat his most dangerous foe! Plus: Wong takes on a new role - as an Agent of W.A.N.D.! Dark wedding bells are ringing for Clea's mother, Umar the Unrelenting - but who is she marrying?!
And Doctor Strange shares a magical adventure with Sister Grimm of the Runaways!
Collecting DOCTOR STRANGE (2023) #1-5.
Rated T+
---
More from this collection