---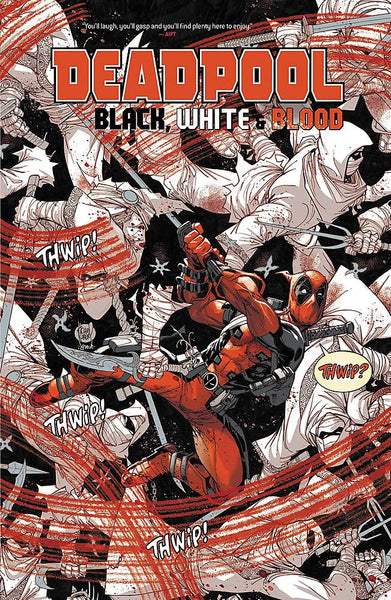 Deadpool - Black, White & Blood Tpb (2022)
Marvel Comics
---
What's black, white and red all over?
A collection packed with blood-drenched tales of violence and mayhem led by Marvel's mirthful mercenary himself, Deadpool!
Wade Wilson curses streaming platforms, laments the loss of video stores and invades a foreign country - all in the name of his favorite screen idol! Deadpool enjoys his long-awaited reunion with Gabby Kinney, A.K.A. Scout!
The Merc with a Mouth battles the man who can't miss: Bullseye! Plus: The age-old parable of how Deadpool got his swords - and more, filled with gore! You want to see today's top talent take it to the edge to bring you the wildest Wade Wilson adventures yet?!
Then this is the book for you! It's like a classic black-and-white movie - but with way more blood!
Collecting DEADPOOL: BLACK, WHITE & BLOOD #1-4.
PARENTAL ADVISORY
---
More from this collection