---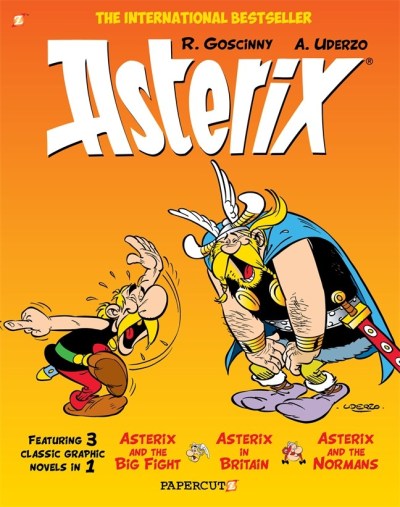 ASTERIX OMNIBUS VOL 03 TPB
PAPERCUTZ
---
(W) Rene Goscinny (A) Albert Uderzo
One of the world's greatest comics characters, the ever-fearless Asterix, continues to battle supposedly unbeatable odds to protect his tiny village from the Roman Empire. Fortunately, all of the villagers have super-strength thanks to a secret potion. In "Asterix and the Big Fight," one of the three classic Asterix graphic novels collected here, the Romans are beginning to wise up. Instead of trying to conquer Asterix's village, the Roman's challenge Vitalstatistx, chief of Asterix's tribe, to a one on one battle with the Gallo-Roman Chief, Cassius Ceramix of Linoleum. As per Ancient Gaulish customs, the loser would forfeit his entire tribe to the winner.
"Asterix in Britain," the Romans have conquered all of Britain except for a single village in Kent. Sound familiar? Anticlimax, a member of that British village, travels to Gaul to seek help from his first cousin once removed, Asterix. Together, with Obelix, they decide to bring back a barrel full of the secret potion that imbues anyone with super-strength, but word leaks out, and the Romans will do anything they can to thwart this rescue mission.
Finally, in "Asterix and the Normans," Asterix encounters a group of Normans who want to learn all about fear, and that's just the tip of the iceberg as far as how many strange and crazy things happen in this particular adventure. We won't even mention which pop star is parodied in this story! Just when you think you know what to expect in Asterix, the creators Goscinny and Uderzo throw things at you that you never could've imagined. That's probably why Asterix remains such a successful comics character to this day!
---
More from this collection