---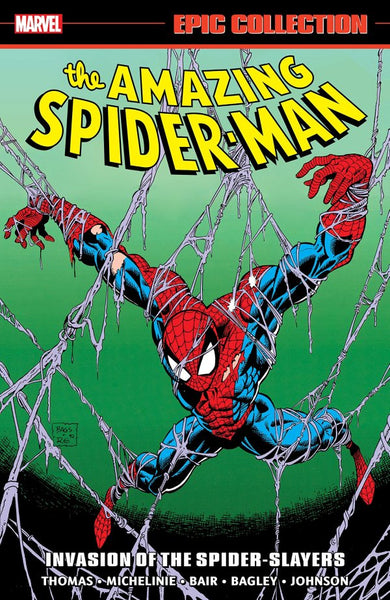 Amazing Spider-man - Epic Collection - Invasion of the Spider-Slayers Tpb (2022)
Marvel Comics
---
The Spider-Slayers are back!
Spider-Man is under siege when deadly robots start attacking every time he appears in public. Who is behind their unrelenting assaults?
Can Spidey uncover the truth with Electro and the Scorpion standing in his way?
And what side deal has Felicia Hardy, the former Black Cat, made with the Tinkerer? Meanwhile, Peter Parker's parents have recently returned home, but a mysterious man is watching their every move. And Venom goes on trial for his crimes — but after an eye-opening battle with Spider-Man, will he turn over a new leaf?
Plus: Styx and Stone strike! Annex attacks! And Spider-Man and Doctor Strange duke it out with demons in the Death Dimension!

COLLECTING: Vol. 24: Amazing Spider-Man (1963) 368-377, Amazing Spider-Man Annual (1964) 27, Spider-Man/Dr. Strange: The Way to Dusty Death (1992) 1, Spider-Man Special Edition: The Trial of Venom (1992) 1
---
More from this collection