---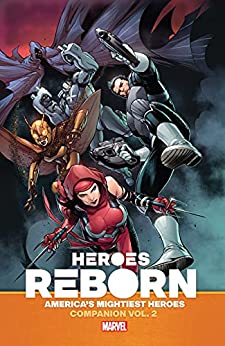 Heroes Reborn - America's Mightiest Heroes Companion Book Two Tpb
Marvel Comics
---
(W) Sacks, Ethan, More (A) Luca Pizzari, More (CA) Stephen Segovia.
More tales from a world reborn!
In the absence of the Avengers, the Squadron Supreme are America's Mightiest Heroes - and the changes don't end there!
Some threats require a more savage approach than the Squadron can offer, and that's where Elektra and her squad - including the Punisher, Crossbones and Cloak - come in! Police Commissioner Luke Cage has one job: eliminate vigilantes!
By day, Dr. Gwendolyn Stacy is Ravencroft Asylum's leading psychiatrist - but by night, she dons the guise of Nightbird! Who will protect Canada from the supremacy of the Squadron? Weapon X and Final Flight! And don't miss a classic story from the days of yore: Nighthawk vs. the Green Goblin on the night Sam Wilson died!
Collecting HEROES REBORN: SQUADRON SAVAGE; HEROES REBORN: MARVEL DOUBLE ACTION; HEROES REBORN: AMERICAN KNIGHTS; HEROES REBORN: NIGHT-GWEN and HEROES REBORN: WEAPON X & FINAL FLIGHT.
Rated T+
---
More from this collection