---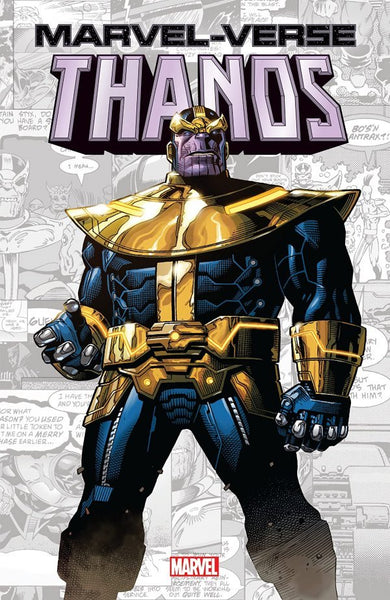 Marvel-Verse : Thanos Tpb
Marvel Comics
---
Thanos is one of the deadliest villains in the Marvel-Verse - and these are some of his greatest tales of conquest!
Thanos' sinister debut leads Iron Man into battle with Drax the Destroyer! Then, join Thanos in cosmic conflict with his arch-enemy, the legendary Kree warrior Mar-Vell! The Mad Titan takes on the demonic Mephisto as secrets of the Infinity Gems are revealed - but can Spider-Man triumph over Thanos and escape the afterlife? And what chance does Ka-Zar, lord of the Savage Land, have against the Mad Titan's world-conquering plans?! Plus, a holiday tale like no other starring Thanos and his "daughter" - the deadly Gamora!
Collects Iron Man (1968) #55, Captain Marvel (1968) #33, Silver Surfer (1987) #45, Spider-Man (1990) #17, Ka-Zar (1997) #11, material from Marvel Holiday Special (1991) #2.
---
More from this collection