---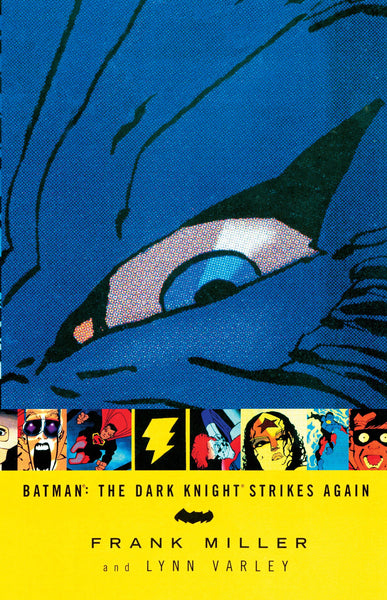 Batman - The Dark Knight Strikes Again Tpb
DC Comics
---
It's been three years since the events of The Dark Knight Returns, and everything is just fine.  At least on the surface.  What the world at large doesn't know is that it's a total sham.  A perfectly choreographed, pretty little world where everything that's ugly, or even potentially disturbing, is all nicely wrapped up with neat little ribbons and swept under the carpet.  Only he knows better.  He's watched it fester to near-breaking point, and it's time for the only free man left who can effect any real change to bring it all down around their ears once and for all.

The Dark Knight returns once again with a vitality unseen since the first years of his war on crime.  Together with his army of Bat-soldiers, including Carrie Kelley—formerly Robin, and now the new Catgirl—the Dark Knight wages a new war on a diseased world that's become completely lost.

The Dark Knight Strikes Again features appearances by such DC icons as Superman, Wonder Woman, Green Arrow, Martian Manhunter, the Atom, the Question and more.  But are they still the World's Greatest Heroes or part of the conspiracy?

This incredible volume, designed by multiple award-winner Chipp Kidd, features a new introduction by Miller commenting on returning to the world he created fifteen years ago.  The book includes the complete 3-part story, plus numerous sketches and other never-before-seen material.
---
More from this collection