---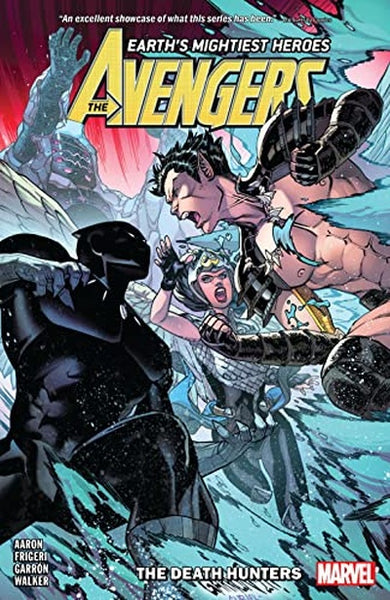 Avengers by Jason Aaron Vol 10 - The Death Hunters Tpb
Marvel Comics
---
(W) Jason Aaron (A/CA) Javi Garron.
Deep in the dark heart of the multiverse stands a shining watchtower. From there, the cybernetic soldiers called Deathloks are deployed to deal with grave threats to all the myriad realms that make up reality.
Now, the Deathloks arrive on Earth bearing a dire warning for the Avengers - and the Death Hunt is about to begin! The Black Skull, the Ghost Goblin, young Thanos, Doom Supreme and more Multiversal Masters of Evil are coming…and, with both Asgard and Avengers Mountain under assault, powerful new allies must assemble. Welcome, Namor the Sub-Mariner and Jane Foster, a.k.a. Valkyrie!
But surely Starbrand is too young to be an Avenger?
Meanwhile, what is Nighthawk up to? Snakes alive, it's the new Serpent Society!
And can two versions of Jane Foster - Valkyrie and the mighty Thor - unite to save her soul?
Collecting AVENGERS (2018) #51-56.
Rated T+
---
More from this collection